eBay
Marketplace Management
eBay is now the second largest online marketplace in the DACH region. Together
with Amazon, eBay initiates around 2/3 of all German e-commerce sales. Worldwide
eBay reaches over 182 million customers in over 100 countries. You can take advantage of this potential.
eBay Marketing
The use of eBay ads and Programmatic Display Ads via eBay Advertising (DSP) enables far-reaching targeting options of potential customers. We support you with consulting and campaign design for brand building and sales, use eAAT (eBay Advanced Audience Technology) and use the most granular targeting options by keywords, age, gender, buying behavior, lifestyle, competitor brands and much more, placements on eBay homepage, sing-out, check-out pages and on third-party sites (via DSPs), among others.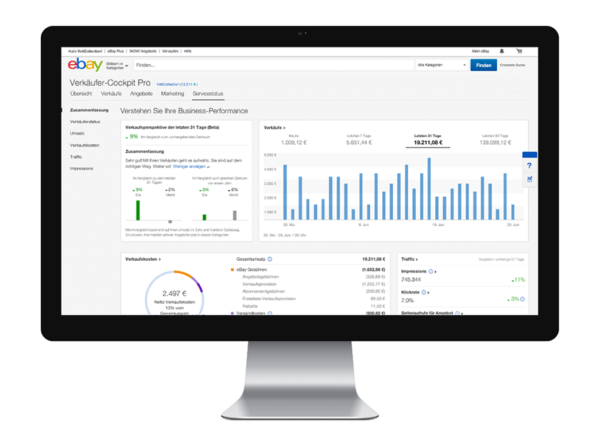 Optimize eBay advertising
With eBay ads, you secure high visibility and sales in competitive environments. Our experienced team of advertising specialists takes care of the ongoing optimization and monitoring of all relevant KPIs, taking responsibility for your success.
Optimize eBay listings
Benefits for the customer are benefits for you as a seller.
By using eBay's Marketing & Trust programs (Product Reviews, eBay Guarantee, eBay Plus, WOW Offers), you gain an edge over the competition.