Agency for SEO on Amazon
Amazon is the largest product search engine in the world. Up to 70% of all sales take place
take place via the first search results page.
A prerequisite for your success is therefore the search engine optimization of your Product Detail Pages (PDP). SEO for Amazon is the cornerstone of any successful Amazon presence. The data collected also provides valuable information for optimization on other marketplaces.
The ranking factors
Amazon's A9 algorithm condenses the ranking of individual search results to a single relevance factor: purchase probability. Essentially, these are the accuracy of a product's fit to the search query and the performance of a product, i.e. whether it is clicked and purchased. Both factors are related to each other.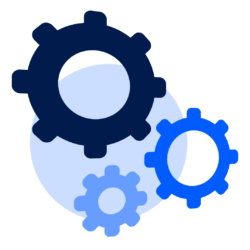 Keywords
Users who search for a product with a keyword usually already have an intention to buy. In the first step, Amazon checks whether the content of your product matches the keyword searched for. In order for your product to be displayed in the best possible way in the search results, all relevant and high-query keywords should therefore be mentioned on the product detail page.
Clickrate & Conversion
Performance also plays a role in the ranking. The click-through rate (CTR) is also an indicator of relevance for Amazon's A9. If your listings are clicked on little in the search results, they are bought correspondingly little and lose importance in the ranking.
The conversion rate (CR) is also a key success factor. It determines the proportion of users who visit and buy your product listing. Typically, CRs are higher on Amazon than in conventional online stores. Depending on the product category, product and search term, conversion rates of 5-25% are the rule.
SEO optimization for your products
In order to be listed as visibly as possible for relevant keywords and to convince interested users to make a purchase, optimization of product pages is indispensable. High-quality, mobile-optimized product images are just as important as keyword-enriched, structured titles, bullet points and product descriptions, all of which are indexed by the A9.
Keyword Research
Which keywords and search terms do customers use to search for your products? Which keywords lead to a purchase in your product category? These questions need to be answered through extensive keyword research. It is essential for listing optimization and helps to place your product ahead of the competition on the search results page. To do this, we use professional tools that map search behavior for millions of Amazon products and categories in all relevant languages.
Product reviews
Like Amazon, all marketplaces attach great importance to satisfied customers so that they remain loyal customers and return. Therefore, the rating of products and merchants also plays an important role for the ranking of products.
Positive reviews are a relevant factor to significantly increase conversion rates and sales for a product. Missing and weak reviews can, conversely, weaken rankings of products.
Dealer ratings & seller performance
Unlike vendors, sellers receive a rating of their sales performance. This is made up of shipping performance, response times to customer inquiries, cancellations/returns, customer ratings, and other factors. Negative seller performance affects Buy Box profits and, in extreme cases, will result in the suspension of your seller account.
Winning the Buy Box
Over 80% of all sales of a product are achieved by the owner of the so-called Buy Box. Therefore, it is crucial not to lose sight of the buy box optimization. Factors influencing the profit of the Buy Box are above all the sales price, the own seller performance and the ability to deliver. Vendors can also suffer from Buy Box losses if, for example, third-party sellers can offer lower prices for their own goods than Amazon itself.